Dr. Karthik A.S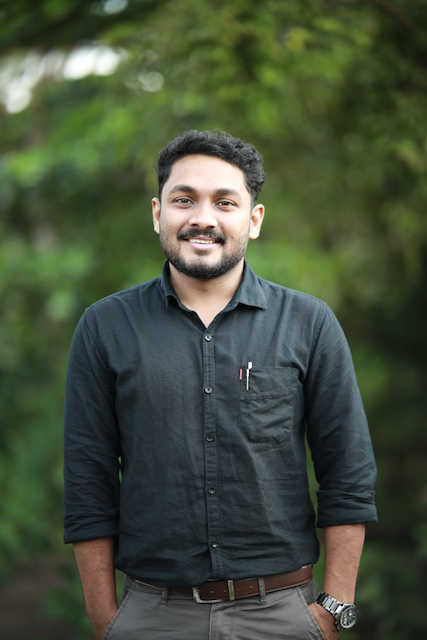 I am the consultant Ayurvedic Doctor at
Prakruthi Ayurveda. My home is close by
in Koonammavu, just 12 km away from
Cherai Beach.
Are you sitting cramped for hours in front of a computer? Eating in a hurry from outside? Suffering from tormenting migraines, neck, muscle or body pain? Then let us meet!
I would like you feel good, happy and pain free in your body. Discover your the full potential. Let your head have this happy, free flowing mind again. Thinking of great ideas and plans, solving problems, being creative, enjoying life. That is what I am specialising in and continue learning about. You can achieve this goal with the ancient wisdom of Ayurveda. You can meet me during my consultation at Prakruthi Ayurveda.
A while ago I also looked into a wider range of therapies such as cupping. It has its
origins in the traditional medicines of China. Cupping can offer instant pain relief in
general musculoskeletal disorders.
Currently I am working on a unique line of treatment for lifestyle related disorders. Above all the combination of adjustments in lifestyle, mental balance, Ayurvedic medicines and manual therapies is for me the way to go about if you look for health in an overall aspect.
I studied Ayurveda Medicine in Karnataka at the Rajiv Gandhi University, followed by a 6 month internship in the Arya Vaidya Ashramam hospital. During that time I gained many valuable insights in Ayurvedic medicine preparation. I completed my 6 months posting in the Government Ayurveda Hospital, Kacherippadi. During that period I improved my skills in Ayurvedic Panchakarma treatment procedures.
A while ago I opened my own Ayurveda Clinic right in the heart of Cherai.
What made me chose Ayurveda?
Ayurveda as a holistic system of medicine aims to maintain good health, to prevent disease and to promote the quality of life. I was greatly inspired by my grandfather to turn to study and practice this invaluable wisdom of Ayurveda. He was a well known Ayurvedic practitioner.
Well about my future…I also want to become a pioneer in Ayurveda just like my granddad.
What do I do when I do no Ayurveda?
I love tracking and camping in the mountains, just switching off from everything and refresh. I'm especially fond of the serene beauty of Munnnar which I have visited at least.. 25 times… not enough, though.
I'm looking forward to guide you to a blananced and happy life. Let us meet for a consultation. Make time for yourself!