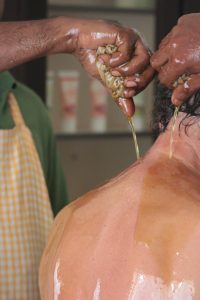 30 min full body massage & 40 – 50 min pizhichil
Pizhichil means 'squeezing'. A piece of cloth dipped in warm, medicated oil is squeezed out all over the body of the patient repeatedly and in rhythmic movements. Balances vata disorders, paralysis, muscle spasms and joint disorders or as part of a rejuvenating process in a healthy person.
30 min Ganzkörpermassage & 40 – 50 min Pizhichil
Pizhichil bedeutet 'auswringen'. Ein Tüchlein, welches wiederholt in warmes, mediziniertes Öl getaucht wird, wird über dem Körper des Patienten unter rhythmischen Bewegungen ausgewrungen. Besonders Vata-ausgleichend. Indiziert auch bei Paralyse, Muskel Spasma, Gelenkerkrankungen und als Verjüngungkur für gesunde Personen.
Price: 3 consecutive days treatment – 6000 INR