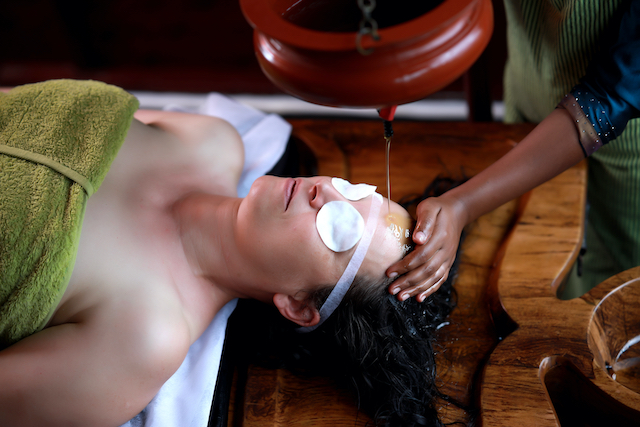 40 min full body massage & 30-45 min Shirodhara
scalp and forehead are massaged with thin stream of medicated, lukewarm oil
deeply calming and relaxing
If you are mentally exhausted, suffer from headaches or insomnia this is the right choice for you. Every existing tension in your head will be gone afterwards.
40 min Ganzkörpermassage & 30-45 min Shirodhara
Kopfhaut und Stirn werden mit einem dünnen Strahl mediziniertem, lauwarmen Öl massiert
tiefenentspannend, beruhigend
Wenn Sie mental ausgepowert sind, an Kopfschmerzen und Schlaflosigkeit leiden, ist diese Behandlung die richtige Wahl. Jedwede Anspannung in Ihrem Kopf wird danach wie weggeblasen sein.
ШИРОДХАРА (SHIRODHARA)
массаж (40 мин.) и Широдара (30 – 45 мин.)
Голова и лоб массируются тонкой струйкой теплого лечебного масла.
Придает глубокое успокоение и расслабление.
Если вы ментально опустошены – это правильный выбор для Вас. Каждое существующее напряжение в голове после этого пройдет.
Price: 3200 INR