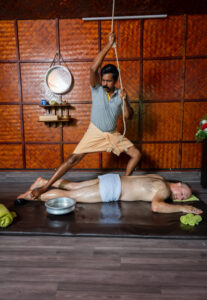 60 min full body massage & 10 min steam bath deep tissue massage done mainly by feet of a male
masseur – a Kerala speciality 'Chavitti Uzhichil'
deep, lasting effect on the skeletal / muscular system
This most amazing massage will leave you completely
relaxed and refreshed for a long time.
KERALA KALARI MASSAGE
60 min Ganzkörpermassage & 10 min Dampfbad
Tiefenmassage, die hauptsächlich mit den Füssen
eines männlichen Masseurs durchgeführt wird –
eine Keralesische Spezialität 'Chavitti Uzhichil'
tiefer, anhaltender Effekt auf das Knochen- und Muskelsystem
Diese außergewöhnliche Massage wird Sie für eine lange Zeit
völlig entspannen und erfrischen.
КЕРАЛЬСКИЙ МАССАЖ НОГ КАЛАРИ (KERALA KALARI MASSAGE)
массаж всего тела (60 мин.) и паровая баня (10 мин.)
Глубокий массаж тканей проводится в основном ногами
мужчины массажиста – керальская специализация "Chavitti Uzhichil".
Дает силу скелету и мышечной системе.
Это самый удивительный массаж сделает вас полностью расслабленым и обновленным.
Price: 3500 INR