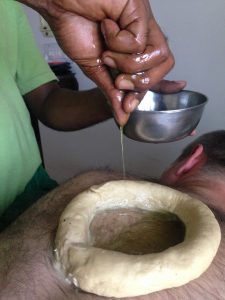 40 min Kativasti & 30 – 40 min full body massage
A ring of black gram dough is put on the aching portion of the body and filled repeatedly with warm, medicated oil.
Indicated for any type of back pain, spinal disorders, sciatica, after care of slipped discs.
40 min Kativasti & 30 – 40 min Ganzkörpermassage
Ein Teigring aus schwarzem Linsenmehl (Urid Dal) wird auf die schmerzende Stelle gesetzt und immer wieder mit lauwarmen, medizinierten Öl gefüllt.
Kommt zur Anwendung bei jeder Art Rückenschmerz, Nachbehandlung von Bandscheibenvorfall, Sciatica und Problemen der Wirbelsäule.
Price per 3 consecutive days treatment: 4200 INR