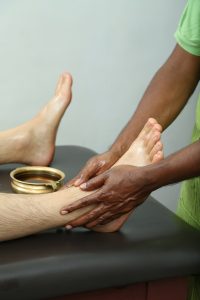 30 min
Not only will your feet be absolutely pampered, but also your entire body and nervous system will love it. It is very similar to reflexology, also a great diagnostic tool.
FUSSMASSAGE
30 min
Hierbei werden nicht nur Ihre Füsse völlig verwöhnt, auch Ihr ganzer Körper und Ihre Nerven werden es Ihnen danken. Sie ist der Reflexzonenmassage sehr ähnlich und somit auch ein großartiges Diagnose Instrument.
МАССАЖ НОГ (FOOT MASSAGE)
30 минут
Как ваши ноги будут очень рады такому вниманию, так и все ваше тело и нервная система полюбят его.
Price: 600 INR