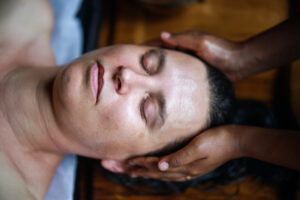 70 min full body massage & 10 min steam bath
soothing and invigorating strokes with changing pressure
rejuvenates nervous and muscular system
Recharge – and experience your softened and toned skin! Head to toe.
AYURVEDA VERJÜNGUNGSMASSAGE
70 min Ganzkörpermassage & 10 min Dampfbad
sanfte und belebende Streichungen mit variablen Druck
verjüngt Nerven und Muskeln
Tanken Sie auf – und erleben Sie Ihre weiche und erfrischte Haut!
ОМОЛАЖИВАЮЩИЙ АЮРВЕДИЧЕСКИЙ МАССАЖ (AYURVEDA REJUVENATION MASSAGE)
массаж всего тела (70 мин.) и паровая баня (10 мин.)
Успокаивающие и бодрящие движения со сменой силы давления.
Омолаживает нервную и мышечную систему.
Обновите и наслаждайтесь вашей увлажненной кожей!
Price: 2200 INR